What my customers have to say...
Dear Houston,
As always, we had a great time fishing with you on Friday. So much so, that we're ready to book another trip next week!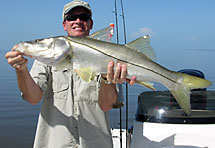 You never fail to find fish and provide us with plenty of dinner. The Redfish was really great. I only wish it was snook season so we could have taken some of them home as well.
Not only is the fishing great, but I think you should promote yourself as a 'stress buster'. I can't express how relaxing it is to get out on the boat amongst so much beautiful scenery.
Thanks for making it another great trip!
See you soon,
Mitch Friend
---
I have been fishing most of my life in South Florida as well as Central and South America for all types of species of fish. I have fished the west coast of Florida for over ten years with a number of different guides until I met Houston Brown eight years ago. I believe that he is the most knowledgeable and proficient guide on that coast and in the 10,000 islands.
Every trip has been a great memory and adventure in one of the most awesome areas of Florida to fish. Houston is like no other guide because he has a 'passion' for guiding like no one I have ever fished with.
Thanks for the memories!
Mike Trombino
---
Dear Houston,
Thank you for taking Bob and I on our recent adventure to the Lostman River. We had a great time and you were very entertaining. Bob and I appreciate your professional guiding service. Bob and I have been coming down here for approximately 25 years and you are truly the best guide we have ever experienced. You shared your knowledge with us and we appreciate that.
I have enclosed samples of glass cleaning solution and Kimwipes. You can place the Kimwipes in a small plastic sandwich bag with a ziploc. Therefore you can keep the plastic bag and solution on your boat when you get saltwater stains on your sunglasses.
Bob and I are already talking about our next adventure in Chokoloskee.

Sincerely,
Steve Bennett